In response to the great #tlap chat had the other day led by @timneedles I felt compelled to write this post. Here goes…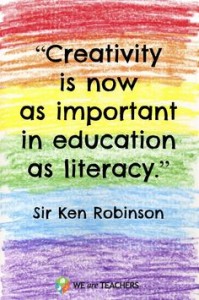 As an art teacher I have always pretty much approached my teaching through the visual arts lens. If I can find an art work or visual of any type to hook my students into the learning, it makes for a much more interesting lesson.
I'd like to share some of these ideas in no particular order.
Symbolisms in RE
One of my favourite paintings is Jan van Eyck's Arnolfini and his Bride (1434).
It is one of the most fascinating paintings with plenty of ways to interpret and discuss its content. I have used it as an introduction to Religious Education classes covering symbolism – both secular and religious.
I even used it in a job interview to explore leadership and commitment. You may even recall having seen it before – especially if you ever watched the opening credits of Desperate Housewives – I hadn't, but the students had at the time and they are the ones who pointed it out. Have a look here. The show actually uses many works in their 40 second opening. I just thought of another introductory class just re visiting that clip!
With all artworks used I try and have it projected onto the wall so students can freely interact with it, come up to point and to explore it in detail. I back this up with smaller visuals in colour for them to have in their book and again on a shared platform so they can digitally manipulate or follow up any after thoughts.
Who is Voltaire?
"I do not agree with what you have to say, but I'll defend to the death your right to say it."
A great way to introduce the tragedy Oedipus, written by Voltaire and first performed in 1718.
Bayeux – the Battle of Hastings
I was asked to be a special guest in a junior History class that was beginning their study of the Bayeux Tapestry. Having just returned from seeing the real thing, I brought along the pull out book I'd bought which was about 1/4 the length of the real tapestry. We laid it out on the ground outside and then proceeded to place the students at intervals up the driveway to establish the actual length using a click wheel we borrowed from the Maths department. The students we astounded by how long it was compared to its width. They were then asked to take a lucky dip to collect their personal scene from the tapestry – their task was twofold, find out what is happening in the scene and come up with a modern twist. Hooked.
A little French Revolution?
Why not begin your study of Marie Antoinette using this?
The History Teachers website has many others. You can check them out here.
Who am I?
I like using Picasso's portraits to introduce personal development sessions or introductory 'get to know you' projects. There are always two sides to everyone – reveal your true self through symbols, through poetry, film or anything else that takes your fancy.
Before we begin we discuss who we think this woman is, what her personality would be like,  how she's feeling today and why. Or, we might use one another student produced revealing his 'learner selfie'!
 Of course I could go on but I think you get the idea. Students love every opportunity to be creative in their own right and as educators we must endeavour to supply the time and space for them to be creative. In the words of Dave Burgess (the pirate himself) from his book Teach Like A Pirate, "Creative inspiration is constantly at our disposal, but we will never see it unless we actively and consistently attempt to create" (p 37).
My challenge to you: plan your next topic using a Picasso hook.
Here's just one more for those who doubt that art can be used in pretty much EVERY subject
I'd love to hear about your ideas so drop me a line – photos would be great too!
Thanks for reading 🙂